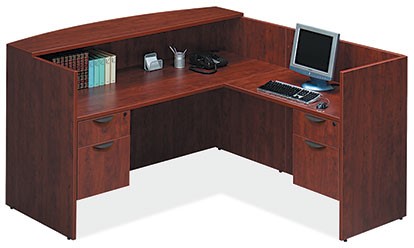 Laminate Reception Desk with Transaction Top
114″ wide x 72″ deep x 42″ high
Desk with Return and Privacy Panel with Transaction Top and Two Hanging Box/File Pedestals, Locking. Other Configurations Available Upon Request.
New with Multiple Finishes Available: Cherry, Mahogany, Honey, Espresso and Modern Walnut (Shown in Cherry)
One Week Lead Time
Pick Up or Additional Charge for Shipping or Local Delivery to the Greater Rochester, NY Region.
Contact us for more information:
http://officewerksofrochester.com/contact-us/
Price: $825.00
Qty Available: To Order